Puzzles
----Pre-School(61)
----Maze(3)
Toys
----Dolls & Accessories(18)
----Accessories(11)
----Furniture(4)
Challenge Projects
----Wood Chain(1)
Indoor Games
----Chess/Cards(11)
Outdoor Games










Fun to Build and Play with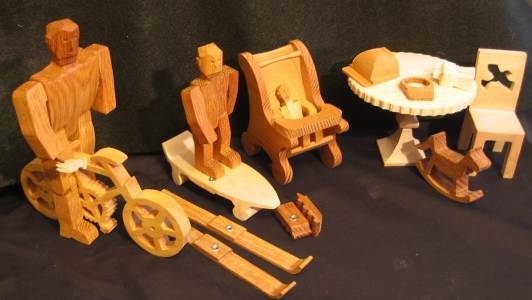 Here is a great selection of fun. Whether it is a complete doll set, chess set, or a solid wood chain to boggle peoples minds.
The dolls are exceptional in that they are magnetically constructed. They have moving and reconfigurable parts. Great to make for the family (I am a big kid, really!) or Grandchildren. Combine this with all the doll accessories available and it makes a really great set.
Items like the dolls, and chess sets require compound scroll saw techniques. See Tips for more information.